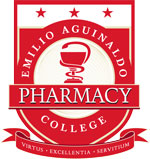 School of Pharmacy
VISION & MISSION
In unison with the EAC Mission Statement, the School of Pharmacy is committed to provide the country with highly skilled and competent pharmacists who are intellectually equipped and morally capable of enhancing the quality of life of their fellow Filipinos, by the practice of their profession.
The programs, library, and laboratory facilities of the College are geared toward an adequate and relevant training in pharmaceutical methods and processes, encouragement of and orientation in scientific research, as well as introduction to current developments in the field of Pharmacy. All these are envisioned to equip the graduates to deliver the pharmaceutical services that modern health care entails, particularly patient care and therapy counseling.
Finally, the newest thrust of the school along with the other health-affiliated units of EAC, is its participation in the Outreach and Extension Program in a pre-selected area of Metro Manila.
PHILOSOPHY
The programs of the EAC School of Pharmacy aim to provide students with adequate and thorough grounding in pharmaceutical concepts and training in instrumentation and pharmaceutical laboratory methodology, encourage students to contribute towards the development of our country through scholarly researches, and update students on recent trends in the field of pharmacy.
The grounding in the values of Virtue, Excellence, and Service of this academic program of the College, is geared toward providing the country with pharmacists who are highly skilled and competent. More importantly, they shall also be morally capable of contributing to the quality of life of the nation by their dedicated practice of their profession in whichever sector thereof they later find themselves.
SCHOOL OF PHARMACY
GENERAL INFORMATION ON COURSES OFFERED
After the 2-year AHSE program where the beginning basic science courses, English, social sciences and humanities are taken, the succeeding 2-year pharmacy curriculum concludes the B.S. Pharmacy degree program. In this component, a systematic and graduated sequence of courses is undertaken in the analytical pharmaceutical sciences, the art of pharmacy, biological sciences, medical sciences, jurisprudence and ethics, and internship stints in community pharmacy, hospital pharmacy, and manufacturing pharmacy.
Bachelor of Science in Pharmacy
This program is designed to provide the country with Pharmacists who are scientifically trained and professionally competent to deliver the full spectrum pharmaceutically services required in modern health care.
Specialization in Pharmacy
This one year diploma course for graduates of BS Pharmacy aims to provide students with intensive training on their chosen field of specialization through a hands-on program in drug manufacturing, hospital pharmacy administration, and community pharmacy management.