Welcome To EAC
We offer a wide range of high quality of teaching and extra-curricular activities.
Located at the heart of Manila, Emilio Aguinaldo College (EAC) is a private, non-sectarian, coeducational academic institution that offers rigorous professional degree programs open to local and foreign students.
EAC nurtures a diverse student body and cultivates partnerships with various training institutions for authentic, advanced learning experiences rarely matched by other learning institutions.
From its foundation in 1957 as a midwifery school, EAC has since evolved to offer a wide array of degree programs – from doctorate, master's, undergraduate, to certificate and diploma courses.
Incorporating interdisciplinary, hands-on approach in developing skills in students, our close-knit community makes it what one college guide calls an "urban oasis."
THE STORY BEYOND DREAMS
THE HISTORY OF EMILIO AGUINALDO COLLEGE 
The history of EMILIO AGUINALDO COLLEGE begins with a man who had a dream — Dr. Paulo C. Campos, President of the University Physicians' Services, Inc. (UPSI), who was its founding President, and where Emilio Aguinaldo College belongs among its subsidiaries.
BACKGROUND
The forerunner of Emilio Aguinaldo College was the Marian School of Midwifery founded in 1957, under the management of the Marian Clinics, Inc., headed by Dr. Jose Fontanilla as principal. In 1959 Dr. Crisanto S. Vito Cruz and Dr. Gregorio T. Delgado, together with Mrs. Lolita R. Vito Cruz established the 1st Medical Secretarial School in the country. This was followed by the founding of the Marian School of Nursing headed by Ms. Carmen Karganilla. Mrs. Julia Vasquez was the head of the School of Midwifery.
THE UPSI TAKE OVER
The University Physicians' Services, Inc. took over management of the school in 1973. Under the new management and with medical consultants and staff of Medical Center Manila, the development of the school as an institution of higher learning accelerated. The school became Marian Junior College, and in the same year, with the opening of new courses, the School of Food Service and Technology and the Dietetic Internship Program under Mrs. Rachel C. Fajardo, its status was elevated to a full-fledged college known as Marian College. The team headed by Dr. Paulo C. Campos as president, included Mrs. Soledad L. Dolor, Chairman of the Board, Sister Imelda Palanca as administrator, and Dr. Elias Imperial as Vice President for Educational Services. In 1975, Dr. Antonio D. Talusan took over as VP for Educational Services. In 1975, the EAC campus was established along Romualdez St., Ermita, Manila with the acquisition of the Tabacalera property and the Metaltek buildings. An innovative academic program, Medical Arts and Photography, with Dr. Crisanto Vito Cruz as Director, was started on this year. Also given government recognition was the 4-year course, Bachelor of Science in Secretarial Administration, popularly known as "Med Sec." Additional courses were offered the following year, namely, the College of Arts and Sciences, headed by Dean Carmita Legarda, offering Bachelor of Arts (AB) and Bachelor of Science (BS) programs. The Bachelor of Science in Nursing, followed by BSN Supplemental Course, were also given government recognition, thus establishing the College of Nursing. The Academic and Administrative Staff included Dean Carmita Legarda, Chancellor and Academic Dean; Cresencio Tadena, Director for Educational Planning and Research; Mrs. Catalina Tible, Registrar; and Mrs. Daisy Barzaga, College Secretary, later to become the 1st Dean of Student Affairs. In line with the government's policy on the dispersal and decongestion of the student population in Metro Manila, particularly in institutions of higher learning, as well as the need for regional development and democratization of opportunities, Marian College began building the 1st school units in Dasmarinas, Cavite in 1977. The 27 hectares ideally situated in gentle slopes surrounded by beautiful country side was envisioned to eventually become its main campus amid sprawling.
CHANGE OF NAME
On September 1977, the name Marian College was changed to General Emilio Aguinaldo College, to apply to both Manila and Cavite Campuses. This was in consonance with the new directions of the government in recognizing and honoring national heroes. Subsequently, the title "General" was dropped, and the College was then called Emilio Aguinaldo College, as it is known today. With the two campuses now in full operation, there arose a need to have two sets of administrators. In Cavite, Dr. Antonio Talusan was acting Chancellor, Mrs. Virginia Bactad. OIC and Head of Arts and Sciences Division, Mrs. Emelita Virata was head of Graduate in Nursing and Mrs. Teresita Medina was head of Midwifery. All courses offered in Manila were given permits to also be offered in Cavite, with the addition of BS Criminology, MA in Teaching, MA in Education and MS Nursing. Simultaneously, EAC Manila offered BSN Supplemental for graduates in nursing (GN) who wanted to pursue Bachelor of Science in Nursing (BSN), and BS Foods and Nutrition and Industrial Cafeteria Management. In addition, the Cavite Campus offered technical courses in Agricultural Technology, Electrical and Electronics Technology, and Refrigeration and Air Conditioning Technology, with Mr. Dorninador del Rosario as head of the Polytechnic School. On October 21 1979, the Emilio Aguinaldo College Foundation, Inc was established at Dasmarinas, Cavite, thus giving birth to the Emilio Aguinaldo College of Medicine with Dr, Lourdes E. Campos as Dean. In Manila, the College of Business Administration was given permit to operate, with Mrs. Judy Arreza as Dean. The following year, March 7, 1980, UPSI formed the Yaman Lahi Foundation, Inc. (YLFI) to manage and operate the Manila and Cavite campuses. To meet the demands of a burgeoning enrolment, the EAC-Manila campus was transferred to United Nations Avenue in 1982, with Marian Hospital being convened into a school building. At this time Dr. Antonio Ulgado was appointed Chancellor of the College (1981) while Mrs. Alicia Clemente was Administrator. Within the next ?ve years, the focus was on curricular program development which paved way to more courses being given government recognition: Pharmacy, Pharmacy Aide and Physical Therapy (1983); Master of Arts in Teaching, major in Educational Administration and Supervision, Guidance and Counseling, and Nutrition and Dietetics (1984); Master in Business Administration and Master of Arts in Nursing (1985). The Presidency of the College was turned over to Gen. Cicero C. Campos, Ph.D., in 1986, but his term was short lived for he was called to active service in the government by President Corazon C. Aquino. He was succeeded in office by Dr. Amado C. Campos 1987. The following year, 1988, Dr. Florangel T. Campos took over as President. She held the position until 1991. The year 1987 saw the sale of Emilio Aguinaldo College Cavite Campus, the College of Medicine and the University Medical Center to De La Salle University. With the sale of the Cavite campus, the administration now focused on the development of EAC-Manila. To further augment the need for facilities in EAC-Manila, the former Philippine Charity Sweepstakes Of?ce building along Taft Avenue was acquired and inaugurated in January 17, 1989 to house the offices of the Registrar, Accounting and Executive Secretary, as well as the College of Computer Science with Mr. Nicodemus Canizares as OIC. On December 1989, a building, called UPSI-2, was constructed to house the school's Audio Visual Center and theaters on its second ?oor, and the EAC Gymnasium and Physical Education Department on the fifth ?oor with Mrs. Alicia A. Angara has Director. On March 5, 1990, the properties now called EAC 2, 3, & 4, were acquired. EAC 2 was designated the College of Dentistry building; EAC 3 housed the Early Childhood Learning Center, the laboratory school for the College of Education; and EAC 4 as the Executive House with the mini Hotel, a practicum place for Hotel and Restaurant Management. November 1990 saw the construction of EAC 5, a ?ve-story building along Gonzales Street. The following year, on May 21, 1991, the Multi-Purpose Hall was erected adjacent to EAC 5 and inaugurated in November 1991, with Mrs. Nelida V. Lares as Director. This served as venue for the Music Appreciation Program of the College, as well as for convocations, social activities and other school assemblies. A property also on Gonzales Street was acquired on December 16, 1991, where a seven-story Science building, EAC 6, was erected and inaugurated in December of the following year. The expansion of physical plant was necessary due to the birth of new courses, namely, College of Respiratory Therapy (1990), with Dr. Joselito Q. Eisma as Dean; College of Dentistry (1992), with Dr. Amalia V. Angeles as Dean; College of Medical Technology (1992), with Dr. Emma Castaneda as OIC; College of Occupational Therapy (1993) with Dr. Pocholo Trinidad as Dean; The College of Hotel and Restaurant became a legitimate college independent of the College of Business Administration (1993) with Ms. Evelyn Delleva as Acting Dean and the College of Computer Engineering (1994) with Engineer Dennis Didulo as Dean; the Early Learning Center (1998), Mrs. Rolenda L. Campos, Director; the EAC Science High School (1999) with Dr. Mercedes T. Hernandez as its Principal. Dr. Cicero C. Campos was re-appointed President in 1992. However, President Fidel V. Ramos once again called on him to serve as the first president of the newly founded Philippine Public Safety College. Dr. Lourdes E. Campos took over as President in 1993. With the latter 's retirement in 1995; Dr. Jose Paulo E. Campos was sworn to office as the 6th President of EAC on April 1997. A five story-extension building was put in place of the Multi-Purpose Hall to serve as venue for departmental examinations. An additional high-rise 10-story building, EAC 7, on the corner of San Marcelino and Gonzales Streets was constructed and inaugurated on April 19, 1997. With this building in place, the EAC campus now fronted San Marcelino Street. Emilio Aguinaldo College has complete facilities for fully air-conditioned Audio-Visual theaters; fully equipped laboratories for natural and basic sciences, rehab and dental medicine, computer science and engineering, languages and mass media production. In 1995, a few years after De La Salle University took over Emilio Aguinaldo College in Cavite, another school under Emilio Aguinaldo College was organized to serve the growing industrialization of Calabarzon. The school was named Center for Technical Education and Skills Training or CTEST for short. The programs were all technical courses under the Technical Education and Skills Development Authority – TESDA, were automotive technology, computer technology, programming, electronics and welding. A partnership was formed with the Technical University of the Philippines to provide the initial key faculty and to train future faculty of the school. In 1997, following the strong demand for nursing education, a school of nursing was opened in the Cavite Campus. Because of the public association of Emilio Aguinaldo College with the medical sciences, the enrollment at the Cavite Campus was soon dominated by the school of nursing. Because technical education could not overcome its image as an inferior education and both to continue to support the Calabarzon economy and to balance the over concentration of students in the nursing program, in 2000 the School of Engineering was organized offering Civil Engineering, Mechanical Engineering, Electrical Engineering and Electronic and Communications Engineering. In 2001 the School of Medicine was opened in the Manila Campus with the Medical Center Manila, a 250-bed capacity hospital as its base. The rationale for opening the School of Medicine were the school complemented the existing programs in the allied health sciences and because the resources, primarily the faculty and clinical cases were already in place at Medical Center Manila – MCM. Besides the faculty and clinical cases, MCM had existing residency programs in all the major departments – Internal Medicine, Surgery, Obstetrics and Gynecology and Pediatrics. Also existing was a residency program in Radiology. Dr Salvador Salceda was the first Dean and the school admitted 25 freshmen medical students during its first year. In 2004 the Dental Laboratory Technology Services, a TVET program, was opened in partnership with Skytech, a company that exported dentures to the U.S. market. The head of Skytech, Ms Wilma Redler, required Dental Technologists, to staff their growing operations. Emilio Aguinaldo College joined the first schools that modeled the Senior High School in academic year 2012 – 2013. Both the Manila and Cavite campuses offered the Senior High School program for Science Technology Engineering and Math, Accountancy and Business Management, Humanities and Social Science and the Sports strands when Senior High School was implemented in academic year 2016-17.
INTERNATIONALIZATION AND MEMBERSHIPS IN ORGANIZATIONS
The first steps towards internationalization involved the enrolment by international students in the School of Medicine in 2006. Several students from Taiwan enrolled in that year. In succeeding years, other students arrived and enrolled in the undergraduate programs in the allied health sciences or in biology with the intent to pursue a degree in medicine. This trend has been sustained and has broadened to many other programs. Students from Taiwan and the People's Republic of China has declined significantly but other students from South Asia, the African continent and Thailand and Indonesia, in the ASEAN have increased in numbers. Following linkages with Qiqihar University, in Helongjiang Province and Nanyang Medical College in Henan Province in the Peoples Republic of China, linkages were established with Higher Education Institutions in Indonesia facilitated by the Indonesian Embassy in Manila, Thailand, Nepal and India. Some international faculty also joined the school faculty but because of restrictive rules of the Bureau of Immigration on hiring foreign staff, these were limited to academics who were married to Filipino citizens and settled in the Philippines. Emilio Aguinaldo College is a member of the Philippine Association of Colleges and Universities. It has served as the president of the Philippine Association of Private Schools, Colleges and Universities since 2006 to the present and in this capacity has been a director of the Coordinating Council of Private Educational Associations since 1997. The school has been a member of the South Manila Educational Consortium since 2006, previously known as the Taft Consortium. The consortium now includes 12 member schools. EAC served as the president of the consortium from 2013 to 2015. The school has been a regular member of the National Collegiate Athletic Association since 2015 having had guest and probationary status starting 2010.
ADMINISTRATIVE AND QUALITY SYSTEMS
The schools administrative, library and grading system use a software by GTI, School Automate. The library subscribes to the Proquest online journals. An e-learning system on a Moodle platform is available for most subjects, where students may access class notes; the periodic evaluation of faculty and non-academic staff by students and the computerized student election have also been implemented. The school began to intermittently adopt quality standards through PACUCOA in 1992. However, it was only in 2005, that the school required all its programs to have accreditation. Except for the School of Medicine, which is with the PAASCU, all the other programs of the school are accredited by the PACUCOA. On May 16, 2016 the Commission of Higher Education granted Emilio Aguinaldo College Deregulated Status for the period April 1, 2016 to May 31, 2019. On July 7, 2017, the Worldwide Quality Assurance Ltd granted Emilio Aguinaldo College ISO 9001:2008 status for the Management of Educational Services and Quality Academic Systems. The Yaman Lahi Foundation, Inc.-EAC was also an accredited science foundation for scientific research by the Department of Science and Technology in 1995. This certification was renewed in 2017.
OUR PHILOSOPHY – BEYOND THE BORDERS OF EDUCATION
Emilio Aguinaldo College constantly innovates its program offerings to keep up with the standards of the world's best educational institutions, and to prepare students as they take on the challenges of today's highly-competitive job market. We provide students the opportunity to participate in actual workplace situations with the support of our education partners. Health Care students are able to practice everything they learn in classrooms during their hands-on training at the Medical Center Manila. The same opportunity is provided to Hospitality and Restaurant Management students as they receive training at the Pearl Manila Hotel. Criminology students are able to take their internships with our partner institutions, the National Bureau of Investigation and the Manila Police District. Business Administration students, on the other hand, get to work with industry professionals from a number of our partner private brokers and accounting firms. Students from EAC Cavite Campus are also geared for future professional experience with the support of our nearby affiliates, the Emilio Aguinaldo Medical Center and Antler's Hotel. As part of our commitment to producing world-class professionals, we also take pride in our programs that are recognized here and abroad. EAC's Dental Technology course is the first to receive TESDA certification. In addition, we are one of only five institutions whose Bachelor of Science in Occupational Therapy is recognized by the World Federation of Occupational Therapy. Apart from this, another member of our organization, the Aguinaldo International School, is also making mark as a premier educational institution serving both local and expat families. AIS offers programs for preschool, elementary, high school, and SPED students and also extends support to less advantaged-children through the Service Learning program. Emilio Aguinaldo College shall continue to strive for academic excellence and development of our students, faculty members, administration, and staff.
PHILOSOPHY
Emilio Aguinaldo College is a private, non-sectarian, co-educational institution of learning that fosters equal and fair opportunities of education, the total development of a person, and one's national identity while conscious of his/her role in the global community.
VISION
Emilio Aguinaldo College envisions itself as an internationally recognized private non-sectarian academic institution rooted in the Filipino nationalist tradition that consistently pursues the advancement and welfare of humanity.
MISSION
Emilio Aguinaldo College provides a learner-centered, inquiry-based, and socially relevant academic community.
CORE VALUES
VIRTUE
EXCELLENCE
SERVICE
QUALITY POLICY
We, the employees of Emilio Aguinaldo College are committed to: Comply to all statutory and regulatory standards; Provide consistent quality service to our students, parents, and other stakeholders; Develop a responsible person through relevant and quality education, able to lead and enhance one's life, and contribute to the development of the country and humanity; and Continuously improve our QMS by communicating the needs of customer to the entire organization, standardizing the processes, enhancing employee's competence, periodic review of the system, and addressing the needs for continual improvement.
QUALITY OBJECTIVES
The objectives of Emilio Aguinaldo College are to:
offer opportunities for quality and relevant education to all;
cultivate the intellectual, spiritual, moral, social, and physical aspects of a person;
instill appreciation and pride for one's national identity; and
produce graduates of global quality equipped with competencies in their field of expertise
At Emilio Aguinaldo College, we believe in providing an environment conducive to learning. Our students are provided with modern, air conditioned classrooms, a well-stocked library, and fully-equipped science, computer, and speech laboratories. EAC is also home to a seven story sports and cultural center that features an olympic-sized swimming pool, a gymnasium, a basketball court, a fitness center, an indoor running track, and a state of the art theater. These are all available for use by students and faculty. Recently, we welcomed a new addition to our facilities – the simulation laboratories for use by our Health Care programs and Hospitality and Restaurant Management programs. Our continued investment in facilities is aimed at further enhancing the learning experience of our students.
We understand that safety is very important to parents and students. Here in EAC, student safety is an utmost priority.
Security personnel is assigned to every building and an electronic ID system is used to screen all individuals entering the school grounds and buildings. On top of that, we also have a 
community police outpost
 within the campus vicinity.
We, however, encourage that you always take necessary precautions when in school. Stay vigilant and report as soon as possible any suspicious activity to authorities.
Board of Trustees of Yaman Lahi Foundation Inc.-Emilio Aguinaldo College
MR. DANILO L. DOLOR
Chairman of the Board
JOSE PAULO E. CAMPOS, EdD
President
ATTY. PAULO E. CAMPOS, JR.
Treasurer/Corporate Secretary
ENRIQUE E. CAMPOS, MD
Trustee
MRS. MA. SOLEDAD D.S. DE LEON
Trustee
LEANDRO M. DE LEON, MD
Trustee
ILDEFONSO CHAN, MD
Trustee
TELESFORO GANA, MD
Trustee
ATTY. FERNANDO CAMPAÑA
Trustee
HILDEGARDE VISTAL, MD
Trustee
MADELINE D.V. FLORENDO, MD
Trustee
ERIZARDO GONZALES, MD
Trustee
MR. ESTEFANIO V. BOQUIRON, JR.
Faculty Representative
MR. EDGARDO REVILLAME, JR.
Alumni Representative
Board of Directors of Emilio Aguinaldo Educational Corporation
MR. DANILO L. DOLOR
Chairman of the Board
JOSE PAULO E. CAMPOS, EdD
President
ATTY. PAULO E. CAMPOS, JR.
Treasurer/Corporate Secretary
ENRIQUE E. CAMPOS, MD
Director
MRS. MA. SOLEDAD D.S. DE LEON
Director
LEANDRO M. DE LEON, MD
Director
ASUNCION L. ABAYA-MORIDO, MD
Director

JOSE PAULO E. CAMPOS, EdD
President

ATTY. PAULO E. CAMPOS, JR.
Treasurer/Corporate Secretary

ELLEN S.N. SALAC, PhD
Vice President for Academic Affairs
Quality Management Representative

LORENZO C. LORENZO, DBA
Vice President for Administration
CLAIRE ORTIZ
Assistant Treasurer

JULIETA M. MASILUNGAN
Comptroller

ALVIN M. RABANILLO
Budget Officer

DECENA P. REQUIÑO, CPA
Chief Accountant/Budget Head

JOSE PAULO E. CAMPOS, EdD
President

ATTY. PAULO E. CAMPOS, JR.
Treasurer/Corporate Secretary

REBECCA C. MIRANDA, CPA, DBA
Vice President for Academic Affairs
Quality Management Representative

LORENZO C. LORENZO, DBA
Vice President for Administration
CLAIRE ORTIZ
Assistant Treasurer

JULIETA M. MASILUNGAN
Comptroller

DECENA P. REQUIÑO, CPA
Chief Accountant and Budget Head

AMELITA M. DACUMOS
Budget Officer

JOSEPHINE G. ALLAM
Assistant to the Chief Accountant
Deans, Directors, Heads of Departments & Academic Support Units

LINO C. REYNOSO, LPT, PhD
School of Arts, Sciences & Teacher Education / Graduate School Principal / High School Department

NORMA GRINIO-NUÑEZ, DPA
School of Business Education, School of Engineering & Technology

DESIRE G. ESTRADA, RC, JD, PhD
School of Criminology
RACHELLE SOBREVIÑAS, DMD
School of Dentistry & Dental Technology

KATHRYN GWYNETH S. AMAN, DBM-HM
School of Hospitality & Tourism Management / Nutrition & Dietetics

CESAR M. MENDOZA, JR., RMT, PhD
School of Medical Technology / School of Pharmacy / School of Radiologic Technology

LORNA CATHERINE G. RAYMUNDO, MD, MHPEd, FPOGS, FPCOM
School of Medicince
School of Nursing & Midwifery

VANESSA SARDAN-PEREZ, PTRP, MSPH
School of Physical, Occupational & Respiratory Therapy

JEANNEATH D. VELARDE, LPT, PhD
School of Arts and Sciences

CHARITO S. CRISTOBAL, MBA
Officer-in-Charge, School of Business Administration & Accountancy

Engr. AMELIA M. NATIVIDAD, RCE, MSCE
School of Engineering, Computer Science and Technology/Vocational Technology

AILEEN D. YBAÑEZ, RC, CSP, PhD
School of Criminology

VERONICA S. GARCIA, DMD, PhD
School of Dental Medicine

ETHEL REYES-CHUA, LPT, EdD
School of Education

JERAMAYNE DAHL E. CASTOR, MIHM
Officer-in-Charge, School of Tourism & International Hospitality Management

SUPACHAI A. BASIT, RMT, MSMT, PhD
School of Medical Technology

ROMEO C. ONGPOY, CPS, RPh, MSc
School of Pharmacy

JESSICA F. TORRE, OD, PhD, FPCO
School of Optometry

ARNEL G. PANTOJA, RN, MSN
School of Nursing & Midwifery

GLENDA V. SANGGALANG, PTRP, MHPEd
School of Physical Therapy

YOLANDA C. MAGNAYE, RRT, MAEd
School of Radiologic Technology

ERNESTO U. GUILLERMO, Jr., LPT, MST
Principal, Senior High School

ATTY. SHENNAN A. SY, JD, LLM
Institute of the Law and Justice

GRACE SANTILLAN-LEE, MAT
Registrar

ESTEFANIO V. BOQUIRON, JR., MPA
Dean, Office of Student Affairs / Director, Sports Development Office

LORENZO C. LORENZO, DBA
Director, Human Resource Department

MARIA DULCE E. LUCIDO, DMD
Head, Dental Services

ERLINDA B. GONZALEZ
Chief Librarian

WILBERT E. MAYOL, MAPM
Director, Admissions and Student Recruitment Office

ILEEN MENDOZA, RGC
Director, Guidance & Placement Office
Center for Research and Publication

LEILA DE VILLA-MASAJO, RN, RM, MAN
Head, Center for Academic Assessment and Analytics

MILA F. LOTINO
Head, Purchasing Department

AIDA L. MANIMBAO
Head, Property Department

Ar. LILIA A. CALULOT
Head, Engineering & Maintenance

FLORANTE F. REYES
Info-Tech Network Manager, Network Division
Asst. to the Dean of Student Affairs

JULIE B. PEL-O, LPT
Principal, Aguinaldo International School

EDAR T. TADEO
Data Protection Officer

ROBIN NGO REYES, MBA
Director, Marketing and Communications Office

NIEVA M. REINTAR, PhD
Head, Bookstore Services

REDDY SAMPALLI SRINIVASA, MBA
Director for International Students

MARILOU M. PAMINTUAN, RM, RN, EdD
Director, Center for Training ang Continuing Education

TRACY LEI C. LACORTE
Officer-In-Charge, Registrar's Office

KIMBERT M. MACK, MM-PA
Director, Office of Student Affairs

MARISOL M. REMOLLO-MACK, JD
Director, Human Resources Management & Development Office

ATTY. JOSE A. LANDAYAN, JD
College Secretary, Institute of the Law and Justice

MARILEN B. ANGELES, RL, MAEd
Chief Librarian

HERMAN L. BRIÑAS, LPT, RGC, MEd
Director, Center for Counseling, Career & Student Services

BRANDON G. SIBBALUCA, LPT, PhD
Director, Research and Development Office

JOSE MARI C. MALLARI
Head, General Services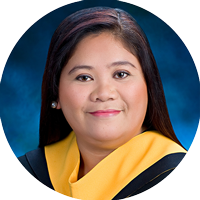 IARIS L. ALAGON, MBA
Director, Office of External Linkages & Community Outreach-APS / Officer-in-Charge, Admissions Office

ALMA O. VILORIA, EdD
Director, Center for Academic Assessment & Analytics

DOLORES M. ATANACIO
OIC, Property-Central Supply

ARNEL M. ECLEO
Head, ITC & Systems Administration

MARLON T. CUEVA
Head, Computer Services

VILMA D. AGASER, MSBio
Coordinator, NSTP

FLORENCIA A. GALANG
Internal Auditor

ROBIN NGO REYES, MBA
Director, Marketing and Communications Office

ABRAHAM CHONGO, MA
Director, International Students Office