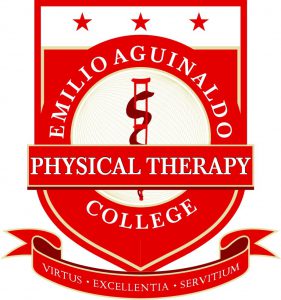 SCHOOL OF PHYSICAL THERAPY
VISION
The Emilio Aguinaldo College – Cavite School of Physical Therapy envisions itself to be a cutting edge academic institution providing excellent and affordable physical therapy education, relevant community extension services and quality research.
MISSION
To develop competent, ethical and compassionate professional physical therapists who foster health promotion and responsive to the rehabilitation needs among Filipinos and the Global community.
OBJECTIVES
To develop a relevant and outcomes-based curriculum.
To provide the faculty with development programs that will focus on personal and professional growth.
To provide appropriate and adequate infrastructure in support of the outcomes-based curriculum.
To build linkages with the community and other agencies for the enhancement of students' clinical practice and improvement of the school as a whole.
To produce quality and relevant researches.